Site Home
>
Emeritus Professor Releases New Book Focusing on Microbes, Public Health
Emeritus Professor Releases New Book Focusing on Microbes, Public Health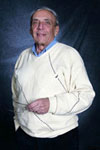 Interested in learning about emerging diseases, bizarre viruses, or how some types of bacteria are necessary to good health?
Dr. Robert I. Krasner '51, professor emeritus of biology, addresses these issues and more in The Microbial Challenge: A Public Health Perspective (Third Edition) (Jones and Bartlett Learning, 2013), co-authored by Dr. Teri Shors, professor of biology at the University of Wisconsin-Oshkosh.
The third edition, which has been extensively revised and updated since the first edition was published in 2002, addresses how microbes play a significant role in everyday life. It focuses on human-microbe interactions and delves into subjects ranging from vaccinations to antibiotic-resistant bacteria. The book's final chapter is dedicated to current challenges, such as biological weapons and modern plagues.
Krasner retired after 50 years of teaching at PC in 2008. Courses he taught included Microbiology, Microbes and Man, Immunology, and Biotechnology.

For 30 years, Krasner directed the Summer Science Program for High School Students, held each July on the PC campus. From 1975 to 2006, more than 1,000 students studied environmental biology, DNA, biotechnology, and the human genome through this enrichment program. He also has led numerous programs to improve science teaching among secondary school educators, with a special emphasis on microbiology and, most recently, bio-terrorism.
A noted presenter and author of scientific papers, he's also the author of 20th Century Microbe Hunters (Jones and Bartlett, 2007).
In addition to earning his bachelor's degree from PC, Krasner earned his master's degree and doctorate from Boston University. In 1999, he earned a Master of Public Health degree from the Harvard University School of Public Health.