Marla Tipping
Molecular and Cell Biology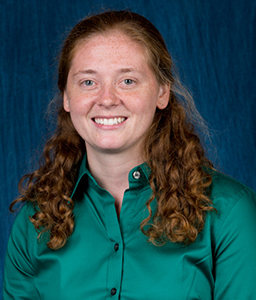 Assistant Professor
Education
Ph.D., University of Massachusetts, 2011
B.A., Saint Anselm College, 2004
Courses taught:
Research
My research utilizes Drosophila melanogaster as a model system to study how cells are able to reprogram their metabolism in certain disease states. I am particularly interested in understanding how mutations in metabolic enzymes can lead to tumorigenesis. In my lab, we investigate these questions by genetic, molecular, and biochemical approaches with the goal of identifying potential new targets for therapeutic treatment.
Recent Publications:
Tipping, M., Perrimon, N. 2014. Drosophila as a Model for Context-Dependent Tumorigenesis. Journal of Cellular Physiology 229: 27-33.
Degoutin, J.L., Milton, C., Yu, E., Tipping, M., Bosveld, F., Yang, L., Bellaiche, Y., Veraksa, A., Harvey, K. 2013. Riquiqui and Minibrain are regulators of the Hippo pathway downstream of Dachsous. Nature Cell Biology 15:1176-1185.
Gilbert, M.M., Tipping, M., Veraksa, A., and Moberg, K. 2011. A screen for conditional growth suppressor genes identifies the Drosophila homolog of HD-PTP as a regulator of the oncoprotein Yorkie. Developmental Cell 20: 700-712.
Tipping, M., Kim, Y., Kyriakakis, P., Tong, M., Shvartsman, S.Y. and Veraksa, A. 2010. β-arrestin Kurtz inhibits MAPK and Toll signaling in Drosophila development. The EMBO Journal 29: 3222-3235.
Yelleswarapu, C.S., Tipping, M., Kothapalli, S.R., Veraksa, A. and Rao, D.V. 2009. Common path multimodal optical microscopy. Optics Letters 34: 1243-1245.