Degrees & Programs
Our department offers several programs of study — each specific to the post-graduate plans of our students. We invite you to explore each major and minor program we offer to see which one best fits you. Complete degree requirements for all academic programs can be found in the course catalog.
Majors
Minor
Evolutionary Biology and Ecology
The minor provides a strong foundation in organismal and population biology and related disciplines. It features a strong hands-on component involving course work, laboratory experiences, and field studies. Six courses, totaling 22-23 credits, are required.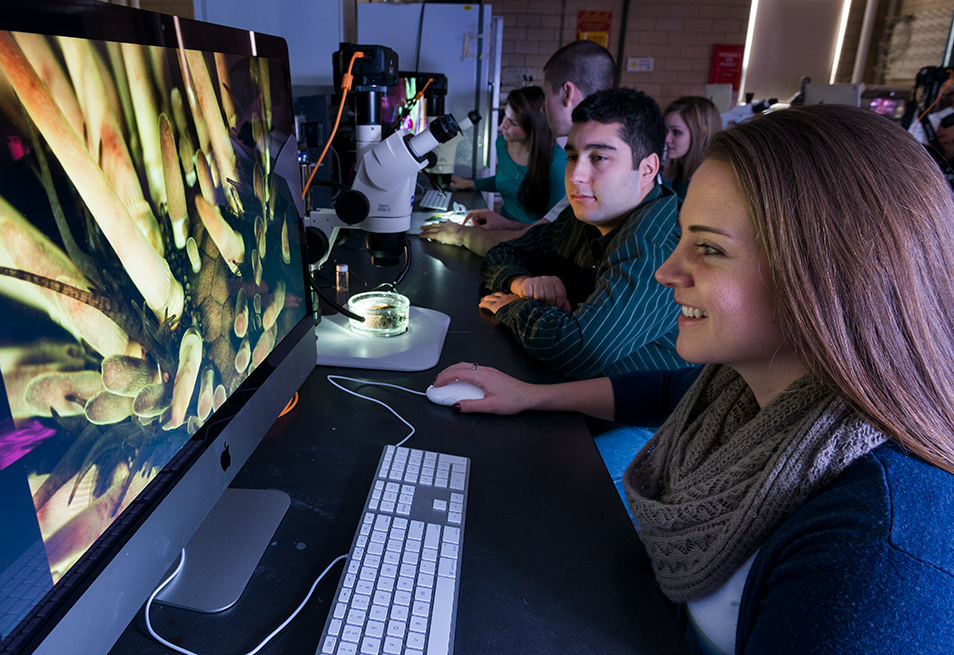 Certificate
Neuroscience
​​​​​​​​​​​​​The Certificate in Neuroscience Program offers Biology and Psychology majors the opportunity to participate in an integrated course of study—from the molecular level to gross brain anatomy—that focuses on nervous system structures, functions, and behavior. Learn more about the program here.
Graduate & Beyond
3 + 4 Optometry
We offer a combined degree program with the New England College of Optometry. This program is designed for the highly motivated student with a professional goal in optometry. It allows for completion of the B.A. or B.S. degree in biology and the O.D. degree (doctor of optometry) in seven years, rather than the usual eight. The first three years at PC offer a blend of liberal arts, basic, and biological sciences, which will prepare students for professional study. The next four years at New England College of Optometry (NECO) provide the coursework required to complete the PC baccalaureate degree, as well as the professional training required for the doctoral degree in optometry.
Pre-graduate Preparation in Biology
Both the B.A. and B.S. degree programs are acceptable for admission to graduate schools specializing in the biological sciences. Most graduate programs look more favorably on students who have a B.S. due to the more rigorous requirements of the degree. Students who are planning to pursue post-graduate education should consult with our pre-graduate school advisor, Dr. Laura Williams, as early as possible in their second year.
Premed Preparation in Biology
Both the B.A. and B.S. degree programs meet the science requirements demanded for admission to professional schools specializing in the health sciences such as medicine, dentistry, optometry, and veterinary medicine. Most students interested in the health professions major in biology. However, some students whose interests lie in other areas may elect to major in non-science department, while still successfully completing the prerequisites for medical, dental, veterinary, or optometry school admission. Students who are planning for a career in the medical sciences should consult with the Advisor for Health Professions early in their freshman year. Learn more about the Premed program.
Recommendations for Undeclared Students
Students interested in the biology major or pre-medical preparation should consider the following recommendations:
Before undertaking serious exploration of a major in biology, students are asked to consult with the chairperson of the department or the advisor for the health professions.
Freshman biology majors normally are required to take four specific courses including General Biology, General Chemistry, Calculus, and DWC. This is NOT RECOMMENDED FOR THE UNDECLARED STUDENT. Instead they should take General Biology (with lab), Calculus, DWC, and one elective/general degree requirement each semester in their freshman year:
IMPORTANT NOTE: Any student considering these courses should first consult with BOTH the appropriate undeclared advisor and the biology department chairperson. This recommendation is made with the intention of preventing serious academic difficulties that might otherwise be encountered.
These courses, with the exception of the electives, are two-semester sequential courses required of freshman biology and pre-medical students. An undeclared student who decides NOT to pursue the biology or pre-medical course of study, but who has completed this freshman year schedule, will have completed the general degree requirement in science and mathematics.